Allegheny River & Watershed Clean-up
Welcome to the Allegheny River & Watershed Clean-up website!

Since 2005, almost 4,700 volunteers have donated more than 35,500 hours and have removed about 820 cubic yards of trash from the watershed. They have pulled out television sets; microwave ovens; lawn chairs; refrigerators; 55-gallon drums; more than 16,782 tires and more than 147,000 pounds of recyclable metal (that's more than 70 tons!). Countless bags have been filled with recyclable metal, glass, plastic and aluminum.

Due to the many risks associated with the COVID-19 pandemic, we've decided to POSTPONE the 2020 Allegheny Reservoir Clean-up. We're hopefull that the stars will align and we'll all be able to get out soon.
Check back frequently!
In the meantime, we do want to encourage you to get out, either by yourself or with others in your household, to do some good out there! Find a place that could use a little love and attention and give it a LOT! Pack a lunch and a bunch of garbage bags and make an afternoon out of it!
Once you been out and picked up a bunch of garbage, you can come back here and go to this page and record your accomplishments! We don[t yet have a way to see a summary of what everyone does but, we're working on it and we will. Your data will be there! Thanks!

The 2019 (11th Annual) Allegheny River Clean-up was a fabulous success! More than 300 volunteers enjoyed very pleasant weather over the course of the clean-up. In the end we accumulated more than 130 tires (and some of them were HUGE!), 54 cubic yards of garbage and (with the help of community contributions) 30,000 pounds of recyclable metal. Thanks to all who participated! The watershed and the community are better for your efforts!
Also, the new venue for the River Riot was absolutely perfect! Allegheny Outfitters and Bent Run Brewing Company co-hosted the event at their new, adjacent storefronts on Clark Street in Warren. We really want to express a great, big THANKS to both of them!!

The 2019 (15th Annual) Allegheny Reservoir Clean-up took place on Saturday, May 11, 2019 and was a HUGE SUCCESS!
After a year of being driven off of both the Reservoir and the River by terrible weather, we finally got a beautiful day! It was truly one of those spring days that reminds us why we live, work and play here.

After fifteen years, our work is very evident! The Pennsylvania (southern) portion of the Reservoir is really in great shape. This is the fifth consecutive year that we've focused on the New York (northern) portion of the Reservoir and it's really beginning to show!
This year 77 volunteers spent a beautiful spring day collecting more than 32 cubic yards of trash and 192 tires. Since its inception 1,119 volunteers have donated almost 9,000 hours collecting 331 cubic yards of garbage and 15,191 tires from the Allegheny Reservoir!




Well, 2018 was not a banner year for either the Allegheny Reservoir Clean-up or the Allegheny River Clean-up!
Last year (2018), with hurricane Florence bearing down on the east coast, we were not able to put volunteers out in canoes on the final two days of the cleanup. 'Ideal' water levels for the Allegheny River Cleanup are approximately 2,500 cubic feet / second (cfs) flowing out from Kinzua Dam and, for safety reasons, our very good friends at the US Army Corps of Engineers were not able to accommodate that outflow.
Despite all of that, 143 volunteers still managed to make serious strides into creating a watershed that is healthier, safer and more enjoyable. In only four days, those hardy souls donated 1,144 hours removing litter and trash from Pennsylvania's 2017 River of the Year - the Allegheny and Pennsylvania's 2015 River of the Year - Conewango Creek.

In total, over 22,940 lbs. of metal (easily a River Cleanup record), 29 tires, and 15 cubic yards of trash were collected and recycled or otherwise properly disposed of.
Items of interest included several crushed metal corn silos, a 500-gallon oil tank, old farm tools and equipment parts, several bathroom sinks, numerous antique soda bottles, and a 9-pin bowling ball!!
This brought our recycled metal totals to more than 110,849 lbs, garbage to 436 cubic feet and the tire total to more than 1,457 over 10 years!



The 2018 (14th Annual) Allegheny Reservoir Clean-up took place on Saturday, May 12, 2018.
Thank you to everyone who contributed to a very memorable 14th Annual ALLEGHENY RESERVOIR CLEANUP. To say it rained a little may be an understatement! The rain was amazing, thunder was awesome and the lightning was a thing to behold! In total, 78 volunteers and employees collected more than 8 cubic yards of trash and 20 tires.

2017 Allegheny Reservoir clean-up
The thirteenth annual Allegheny Reservoir clean-up took place on Saturday, May 13th 2017, and was a huge success!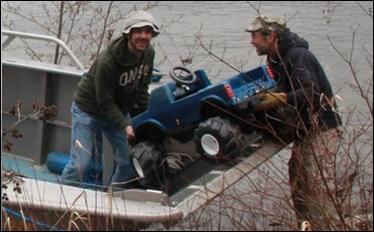 This was the fourth year that the Reservoir clean-up crossed north into New York State and it became quickly apparent that our efforts are really beginning to show. Thank you to everyone who contributed to this year's effort. Despite the weather, 92 volunteers and employees spent a beautiful Saturday collecting more than 50 cubic yards of trash and 352 tires.
The annual clean-up continues to be a cooperative effort involving the US Forest Service (USFS), US Army Corps of Engineers, Warren County Adult Probation and Parole, and numerous other agencies, organizations, and businesses.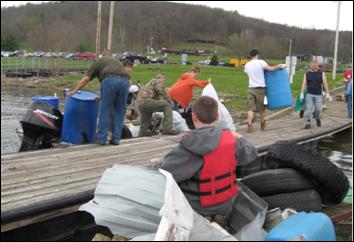 Again, this year the group was joined by Seneca Nation of Indians and Cattaraugus County's Onoville Marina, who served as hosts for this year's activities and played key roles in making this year's event the smashing success that it was.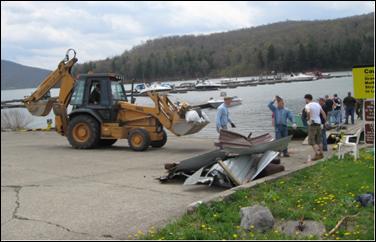 Now in its thirteenth year, the positive effects of the annual Reservoir clean-up are very apparent. As a result of this annual "community conservation event" the shorelines and waters of the Allegheny Reservoir are much safer and cleaner places for the wildlife and recreationalists who use them.


2016 Conewango Creek and Allegheny River clean-up
The 8th Annual Conewango Creek and Allegheny River clean-up was a huge success!

The Conewango Creek and Allegheny River clean-up team (as well as the community), want to extend a heart-felt thanks you to all of those folks that helped to make this event so successful. This year we spent two days on the Conewango Creek (2015 Pennsylvania River of the Year) and three days on the Allegheny.

After seven years, our work is very evident! Regular volunteers commented on how much better the river and creek look. Nonetheless, this year, in just five days, 336 volunteers donated about 2900 hours to remove more than 40 cubic yards of garbage, 92 tires and wheels and almost 12,000 pounds of metal. We were fortunate to have ideal weather this year, and although the work is hard, it's also fun.


Ever wonder what it might look like? Take a look!!

(Thanks Grace!)

Watch for information about 2017!!!