Allegheny River & Watershed Clean-up
Welcome to the Allegheny River & Watershed Clean-up website!
Volunteers have donated almost 7,000 hours and have removed almost 250 cubic yards of trash over the years. They have pulled out television sets; microwave ovens; lawn chairs; refrigerators; 55-gallon drums, almost 800 tires and have filled many bags of recyclable metal, glass, plastic and aluminum.
We're gonna do it again and you can be part of it! Deadline to sign up to volunteer is Friday,September 2nd.
The 2016 (8th Annual) Allegheny River Clean-up will take place from Saturday, September 10th until Saturday, September 17th, 2016. This year we're planning to spend 2 days on the Conewango Creek (2015 Pennsylvania River of the Year) and 3 days on the Allegheny River. Just think of it, spending 5 days making these beautiful resources even more spectacular!
If you're interested in participating in one of Warren's "extreme cleaning events" first visit the FAQ page, and then head over to the Volunteer page to sign up!
We look forward to another great time this year!

2016 Allegheny Reservoir Cleanup
The twelfth annual Allegheny Reservoir Cleanup took place on Saturday, May 10th 2016, and was a huge success!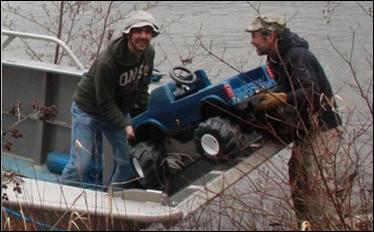 This was the third year that the Reservoir Cleanup crossed north into New York State and it became quickly apparent that our efforts are really beginning to show. Thank you to everyone who contributed to this year's effort. Despite the weather, 94 volunteers and employees spent a rainy Saturday collecting more than 30 cubic yards of trash and 82 tires.
The annual cleanup continues to be a cooperative effort involving the US Forest Service (USFS), US Army Corps of Engineers, Warren County Adult Probation and Parole, and numerous other agencies, organizations, and businesses.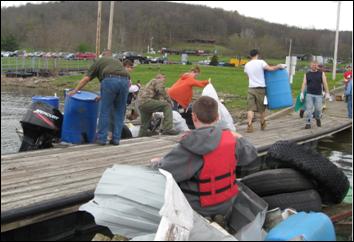 Again, this year the group was joined by Seneca Nation of Indians and Cattaraugus County's Onoville Marina, who served as hosts for this year's activities and played key roles in making this year's event the smashing success that it was.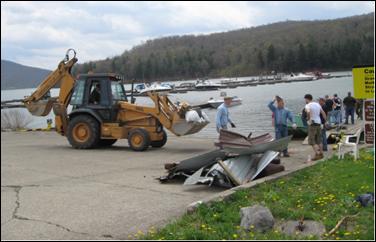 Now in its twelfth year, the positive effects of the annual Reservoir Cleanup are very apparent. As a result of this annual "community conservation event" the shorelines and waters of the Allegheny Reservoir are much safer and cleaner places for the wildlife and recreationalists who use them.